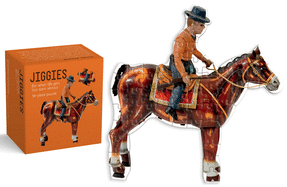 Horsin' Around Jiggie
Finished puzzle size approximately 8.5 x 8.5"
Better than a magnet or a shot glass, a souvenir Jiggie is just what your road trip needs.
These puzzles come with playful greetings printed on the box sides.
Jiggies take about a half hour to complete and are tailored for all-occasion gifting, bedtime wind-downs, campsite fun, or after-dinner table talk.