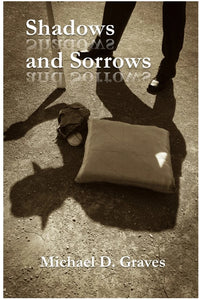 Shadows and Sorrows by Michael Graves
Michael D. Graves created the character of Pete Stone as a memorial to his grandfather. The author lives with his wife in Emporia, Kansas. When life conjures its riddles, Mike turns to baseball and back roads for answers. 
Pete Stone, Private Investigator- Volume 4.
Cocky Wright Was Pete Stone's friend since they first met on a baseball field, a couple of kids with skinned knees, lots of moxie, and not much else. Now Cocky is dead, Cocky's wife and daughter are in danger, and shady characters are after something Cocky was hiding. Was Pete's friend dealing serets to the German American Bund? Was his friend really out to threaten the safety of the country?
Accident or Murder? Pete Stone is searching for the truth, once again, and he must solve the puzzle before his pal's reputation is tarnished forever.
Meadowlark Books, LLC
meadow-larkbooks.com
Copyright (c) 2020 Michael D. Graves
Cover photo by Dave Leiker